Mayank Sarup, QE Practice Head, Movate
In the previous blog (Part 1) on QE transformation, we set the context and need for adapting to today's experience era. From where we left off, let's focus on the strategies for evolving the QA paradigm from being a cost center to a new-age QE known for being a value center that drives business outcomes. We delve into QE transformation pillars, new ways of working, measuring success, and continuous process innovations and wrap up with crucial transformation enablers.
Essential Pillars for Transformation
The QE journey toward becoming a value center hinges on five essential pillars that usher in holistic transformation. New age strategies entail people, processes, governance, tools & frameworks, and innovation.
People: Having a future-ready talent with the proper certifications. Multi-skilled resources improve productivity and minimize downtime. Cross-functional QA skills rank the highest in successfully executing agile development programs and faster deployments. Continuous upskilling and development through an in-house academy elevates traditional QAs to SDETs (Software Development Engineers in Test) and improves QE systems.
A talent pool of full-stack engineers and mature domain-aligned SDETs understand the user journey and play a significant role in releasing defect-free applications. SDETs have deep functional knowledge and bring experience in automation use cases. For example, SDETs with expertise in the banking domain write automation code, test applications, and engage at a higher level with product teams to improve end-user journeys.
Process Improvements that incorporate best practices and knowledge repositories with templates and metrics. QE improvements can be a continual cycle through real-time feedback and identifying areas for technology investments and cost optimizations. Drive quality with a shift-left approach by automating testing at the requirements phase and then performing shift-right testing toward the development phase.
Because automation is dependable and repeatable, it eliminates the test environment risk.
Embedding automation early in the cycle (from requirements to go-live) leads to a faster time to market. SDETs come into the picture by introducing basic boilerplate code before the development phase and planning use cases at the requirements stage. From the shift-right standpoint, once an application is in production, leverage automation to monitor and validate the performance and functionality of the application.
A collaborative governance model with clearly defined end-to-end ownership and accountability drives value realization. Measuring the correct values and KPIs with the help of a core team or governance function paves a clear pathway and highlights focus areas under every pillar.
Tools and accelerators involve industry-leading frameworks, reusable solutions, and components to deliver quality swiftly. Pick the best tools for the job. Consider open-source, cloud-native, and off-the-shelf tooling. Packaged enterprise off-the-shelf automation tools accelerate end-to-end testing. Standardized frameworks and pre-built test libraries (fit for the agile approach) shrink maintenance costs and reduce duplication of efforts across the enterprise.
Continuous improvements are at the heart of QE transformation. Continuity involves improvements that iterate into more intelligent processes and deliver better outcomes. Perpetual improvement is possible by identifying technology areas of investment & avenues for cost optimization.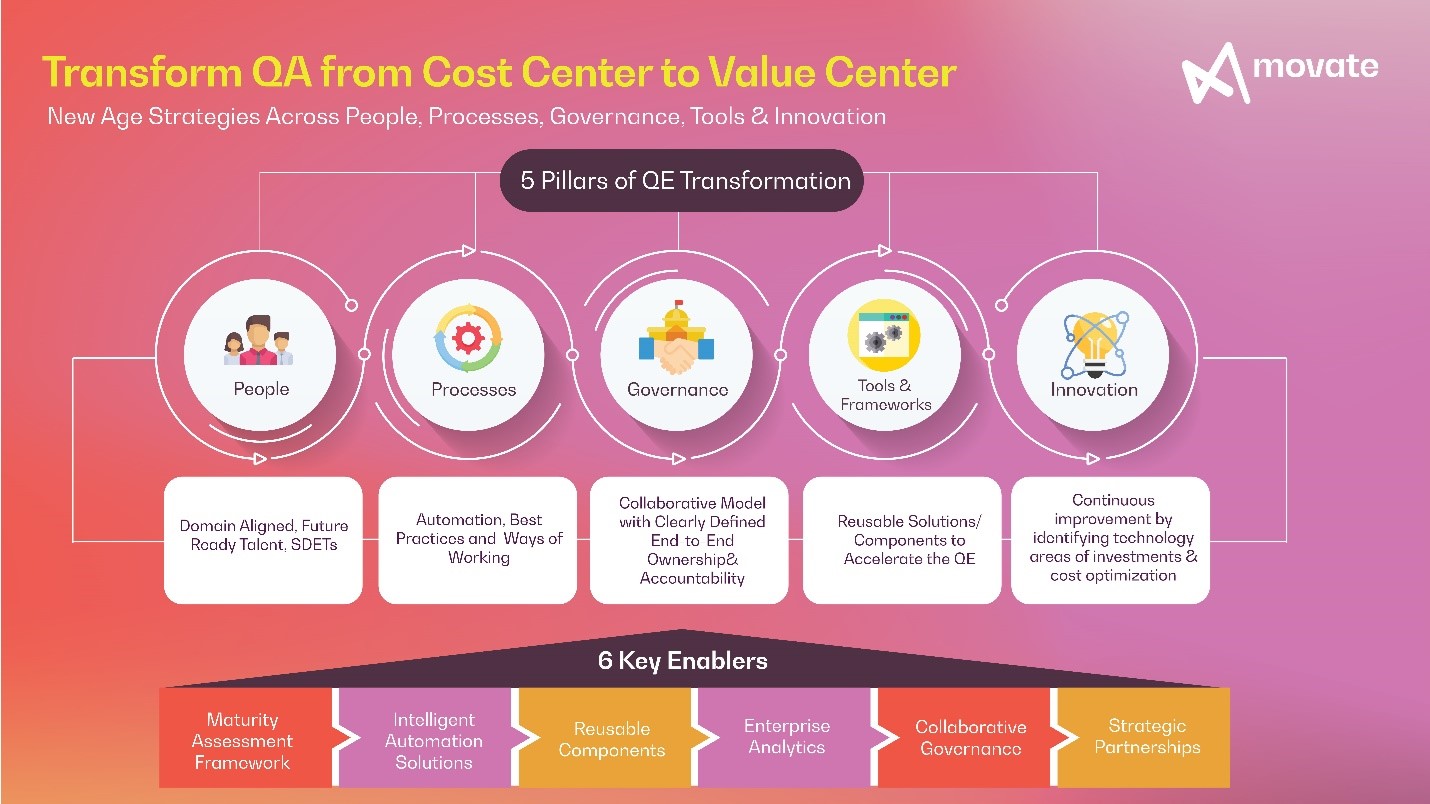 Right click on the image to open in new window
Movate's home-grown platforms & accelerators come to the fore in hastening the transformation journey 30% faster.
Value Through Innovations
Driving value through continuous innovation is part of the QE journey. Emerging technology innovation involves the latest technologies, such as ChatGPT-based bot testing, blockchain testing, and more. Keep an eye on new technology adoptions (IoT, 5G, Metaverse, etc.) and their impact on the QE ecosystem. Enterprise leaders must consider building new skillsets and unique capabilities to test physical and digital and craft a QE roadmap for successful implementation and scaling. Delivery excellence innovation entails figuring out different working methods, models, or processes that drive improvements. A prime example is low-code, no-code development. Domain-based innovation involves understanding specific domain areas and technologies and meeting customer needs. Pro-active production testing of the shopping cart to payment flows for digital commerce is an example that falls under this category.
Transformed Ways of Working
The QE journey is never static but an ongoing cycle of improvements by setting up core teams of continuous integration and monitoring. On the process front, two interlinked processes include end-to-end quality engineering and continuous improvement. The continuous improvement cycle via a core team involves SMEs and regular project teams responsible for upskilling, assessing, providing feedback, and other activities mentioned in the diagram below.
Right click on the image to open in new window
Gauging Your Success
As you mature QA to the new age QE, how do you assess whether you've transitioned and succeeded? Benchmarks, KPIs, and metrics fall under three categories: testing cycle time improvements, cost reductions, and capability improvements.
Some factors indicating the success of QE transformation include improvement in the breadth of automation coverage, dwindling cost of automation maintenance, stable environment, increase in the upskilling of resources, positive feedback from stakeholders, incubating more innovations, the impact of innovations in terms of time and cost.
Enabling Your Success
Movate QE experts from Digital Engineering Services (DES) bring key enablers in navigating this journey. The list includes home-grown intelligent automation solutions, industry-leading accelerators, reusable components, enterprise analytics, and collaborative governance to help hasten agile quality orchestration. Movate's strategic alliances with leading technology vendors bring deep industry expertise to shape your QE strategy.
Orchestrating a new-age QE transformation is a business imperative. Mature your QE capabilities with the right talent, automation first approach, and leverage industry-leading tools and frameworks to deliver quality at speed. Click here to schedule a free session with our QE expert, or email questions to Mayank.Sarup@movate.com
About the Author
Mayank Sarup is a seasoned Quality Engineering expert with over 18 years of experience in the field. Having worked with a range of tools, frameworks, languages, technology architectures, industry domains, and process methodologies, he has played a key role in multiple QA to QE Enterprise transformations, resulting in smarter
automation
coverage, faster release cycles and more effective team alignment with Development, Product, and the Business needs.
Mayank Sarup, QE Practice Head, Movate
Additional Information