"Ignoring Generative AI Will Be a Costly Mistake For Enterprises." – Forrester
Generative AI has emerged as a transformative force in today's technology and business landscape. This buzzy technology holds much promise in shaping digital customer experiences and revolutionizing how enterprises operate. Through its innate prowess to augment human efforts and generate deep insights, AI's new inflection point has become increasingly pivotal in driving innovation, productivity, and customer engagement across industries.
Exciting new developments and advances in generative AI are unfolding. The business benefits of specific use cases hold much promise. However, many enterprises are still testing the waters; some need help navigating the landscape.
Lead the new CX era with the help of Movate's partner ecosystem and a global network of SMEs. Movate's fully managed, low-risk, and ROI-efficient solution empowers enterprises to embrace Generative AI, reinvent themselves, and drive business outcomes.
Unleash customized gen AI-powered CX
Movate offers end-to-end generative AI services, ready-to-use accelerators, and expertise on leading products. With a focus on enterprise & Contact Center use cases, Movate GenAI amplifies EX and improves customer engagement.
| | | |
| --- | --- | --- |
| Consulting Services | Development & Deployment | Integration & Customization |
| Training & Validation | Technical Support & Maintenance | Monitoring & Evaluation |
Benefit from quick onboarding with initial use-case identification and expertise across technologies & platforms. Start with Movate's dedicated Center of Excellence comprising architects, prompt engineers, data scientists, AI developers, and UX designers.
Get Started right away
Through its experience working on pilot projects for top brands, Movate offers starter packages to help clients take the right steps by starting with an enterprise maturity assessment of the ecosystem followed by technical architecture and execution roadmap.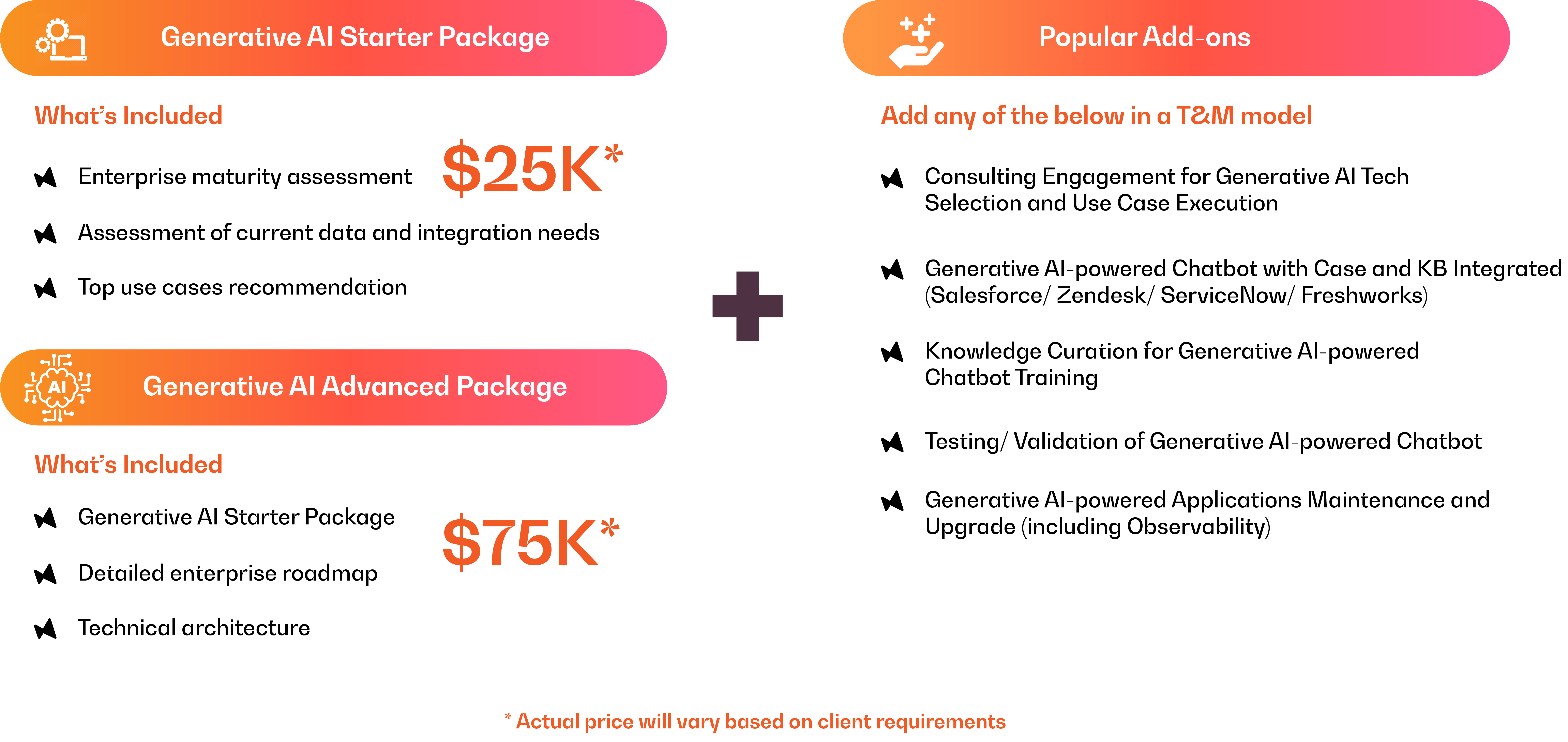 We look forward to partnering with our clients and driving outcomes leveraging this exciting new technology. Know more about our solutions and unlock endless possibilities of GenAI for your enterprise.
Contact us for a briefing session on use cases, ChatGPT services & capabilities.