By
Prabhat Mehrotra, AVP & Amit Derkar, Senior Director
DES – Movate
In the past few years, we have witnessed businesses changing at a warp speed with customer expectations at an all-time high, plus a challenging economy. The advent of cloud computing has radically transformed the landscape of enterprise business systems and the way business engage with customers. In this environment, businesses should effectively use digital technologies for cost optimization and improved speed-to-market.
Legacy CRM Systems Lack Flexibility, Scalability, and Fail to Deliver Business Value
While eager to explore this paradigm, organizations can get held back by their on-premise COTS (commercial off-the-shelf) packaged and bespoke CRM applications and cannot offer business owners enough agility and confidence to continuously evolve with the pace needed to remain competitive in the market.
Over the years, these legacy CRM systems have become difficult to maintain due to non-modular application architecture, hard-coupled systems and dependencies, lack of interoperability, non-intuitive user experience, low automation quotient, lack unified 360 view of customer, and difficulty to scale. In many cases, they may not be suited to providing the agile, social, and mobile environment that the lines of business require.
Modernizing the legacy CRM to cloud-based platforms, like Salesforce, helps businesses lower costs, increase productivity, and drive efficient growth while enabling rapid innovation.
A Modern CRM System is Scalable, Efficient, Cost Effective and Accelerates Value Realization
The modern CRM system leverages key technologies like Cloud, APIs, DevOps, Microservices, Automation, and Containers. A few key trends driving the modernization of the legacy CRM to modern CRM include the convergence of big data analytics and CRM, omnichannel customer engagement, AI application in CRM, automation, Mobile and Social CRM, and seamless integration with other enterprise systems using APIs and self-service.
As a result, CRM capabilities are continuously evolving to deliver business value to enterprises.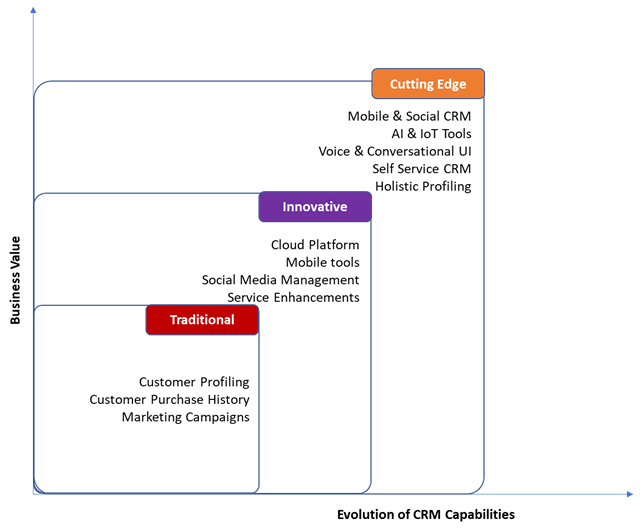 For any company that wants to modernize its legacy CRM applications, Salesforce is one of the best alternatives to be used. However, making CXOs/stakeholders understand the challenges, business benefits, and adaptation methods is equally crucial. But replacing them can also be a costly and time-consuming exercise.
Key Challenges in Modernizing Legacy CRM Systems and Potential Solutions
Most of the organizations are modernizing using Cloud-based CRM platform with Salesforce being the topmost contender; however, migration from legacy systems to CRM has never been easy and most of the organizations realize and learn the hard way during the modernization. A successful migration is challenging, but with a robust and test-focused migration strategy and the right partner, one can overcome challenges ensuring a seamless and time-bound modernization. Some of the challenges and how organizations can address them while migrating are listed below:
Key Challenges
Potential Solution
Application/functionality mapping from Legacy CRM to CRM (SF) must work the same. Every application functionality being developed in the CRM (SF) should work the same way as it was working in the legacy CRM.
· Deploy a Functional Consultant of the legacy CRM and the new CRM who can work in together to map the functionality of each module with a data model to ensure seamless migration of the functionality.

· Document it with a Functional Spec to control the scope changes at service provider end while giving the customer a holistic view of what they are going to envision.

· Deploying this strategy will help customer see a bigger picture and request for more enriching functionality using Salesforce features to help in their transformation journey.

Data migration strategy is an afterthought in the planning stage and go unattended thus resulting in in mismanaged data, wrong mapping of source and target fields, performance issues, a lot of re-work, and multiple iterations of data load.
· Adopt a data governance strategy to ensure the data transformation is appropriately done – removal of corrupt data, de-duplication, and proper data file mapping between source and target systems. Putting this mapping and data strategy in place before proceeding to the next steps is important.

· Data Strategist at both sides need to ensure the source data is correct. Also, Data Analyst should be there to ensure the correctness of data and validate the data at every stage of the process & project.

· Trials should be done with Data Migration with specific tools like Informatica, Talend, etc., to ensure seamless migration and perform test loads in the lower environments before doing full load in Production. A lot of errors and functionality bugs result because of corrupt data, missing data, and duplicates, so migrate the right quality of data successfully to mitigate a lot of re-work.

Lack of an Integration strategy with new CRM and external sources and master source. It is imperative to know where the master source resides to import correct values to the new CRM system. Also, integration testing of APIs directly in Production can result in faulty behavior & low customer satisfaction.
· Consider API governor limits/call limits so that Integration APIs can be designed in an effective way.

· If the system is complex, testing the APIs in lower environments and performing complete quality assurance testing is always better. Similarly, performing full-blown UAT for integrated systems in lower environments is very important.

Ineffective change management approach can lead to lower adoption and higher time to achieve ROI on the migration and can even lead to failure of the project.
· Appoint a change agent to drive the change across all business stakeholders.

· Conduct various roadshows, demos, trainings, and manuals before users start testing anything in the Pre-Prod environment.

· Onboard a pilot set of users who can start feeling the Salesforce functionality Pre-UAT Phase and give any constructive feedback to correct it. These Pilot Users and the champion can further socialize the benefits of the new CRM and its functionality.

· Run a pilot for a specific region/country, adopt the feedback and then prepare a rollout for other regions/countries. Region-specific compliance and Data policies must also be considered while planning the migration.
Modernizing Legacy CRM Systems Using the Salesforce Cloud
Traditionally, CRM has been about establishing a relationship with customers. Today, it is all about creating a hyper-personalized experience for customers anytime, from anywhere. Companies want to ensure every customer interaction is a personalized experience that provides value and makes it easier to do business with your company.
Salesforce, a customer-facing business application/platform, can solve complex business problems. It provides helpful insights into customer behavior and needs through customer data analysis. It brings Sales, Service, Marketing, Commerce into one 360 view. By bridging the gaps between data silos from different departments, Salesforce provides a holistic view of every customer interaction with a brand, thereby boosting CX. It offers a secure and scalable cloud platform. According Salesforce, companies that switch to Salesforce CRM see an average 25% increase in revenue and a 35% jump in customer satisfaction. It increases sales by 29%, sales productivity by 34%, and 74% of users notice that CRM use gives them better access to client data.
Organizations modernizing their CRM systems should select the right service provider who can help them on this journey with best practices and accelerators to turn the challenges into gains while migrating legacy CRM to Salesforce CRM.
Conduct a Thorough Due Diligence – A lot of due diligence should be done to understand what Salesforce CRM can offer, its benefits, and the Return on Investment over a period. This is typically done through an assessment or a consulting workshop before even planning for migration.
Adopt a Collaborative Governance Approach – Create a robust project plan and embed a Delivery Architect on the customer's side to liaison between the customer and back-office teams and help manage the stakeholder expectations.
Deploy a Right Project Team with Right Talent – A project team should consist of Functional Architect and Technical Architect from the Legacy CRM side, Data Architects, Application & Technology Architects at the service provider side, Program and Project Managers, Business Analysts, Change Managers, Technical Team, and a robust Quality Assurance team.
Enable Continuous Improvements – Use data, AI and automation to enable continuous improvement in CRM process by automating workflows, using AI to drive personalized and contextual insights for end users and business leaders as well as continue to enhance the modern CRM with new functionalities as required by business stakeholders.
To summarize, modernization of CRM systems should not be rushed at the cost of price, timeline, and schedule; instead needs to be planned meticulously and collaborative with all stakeholders. The safest bet is to find a reliable and trusted Salesforce partner to help you on this journey.
We at Movate have pre-build frameworks to help companies successfully migrate their Legacy CRM to Salesforce and have SME capability and experience. When you need to be on a scalable CRM platform and access features and functionalities that make life easier for your sales and service teams, think Movate. For any questions, please feel free to reach out to <prabhat.mehrotra@movate.com>