Are contact center leaders deriving the maximum ROI from the present traditional model of their contact center? This question was central to the webinar with Chad McDaniel, President, Execs In The Know. Though contact centers have come a long way, the problem is inherent inflexibility to scale beyond a limit, high fixed operational costs, and heavy dependence on full-time agents as leaders focus on cost optimization.
By default, today's operations hinge on planning and forecasting based on limited variables within the purview. But what happens when marketing launches creative campaigns that suddenly surge call volumes? Or the e-commerce platform that's crashing under humungous sales volumes. Operations going awry during the peak seasons means chaos on the floor. Burned-out agents, disgruntled experiences, and sobering scorecards are the realities. No wonder CCW Digital has repeatedly confirmed that contact centers are not delivering frictionless, personalized, predictive, and proactive experiences. Connected omnichannel experiences, agent empowerment, and meaningful customer interactions seem elusive.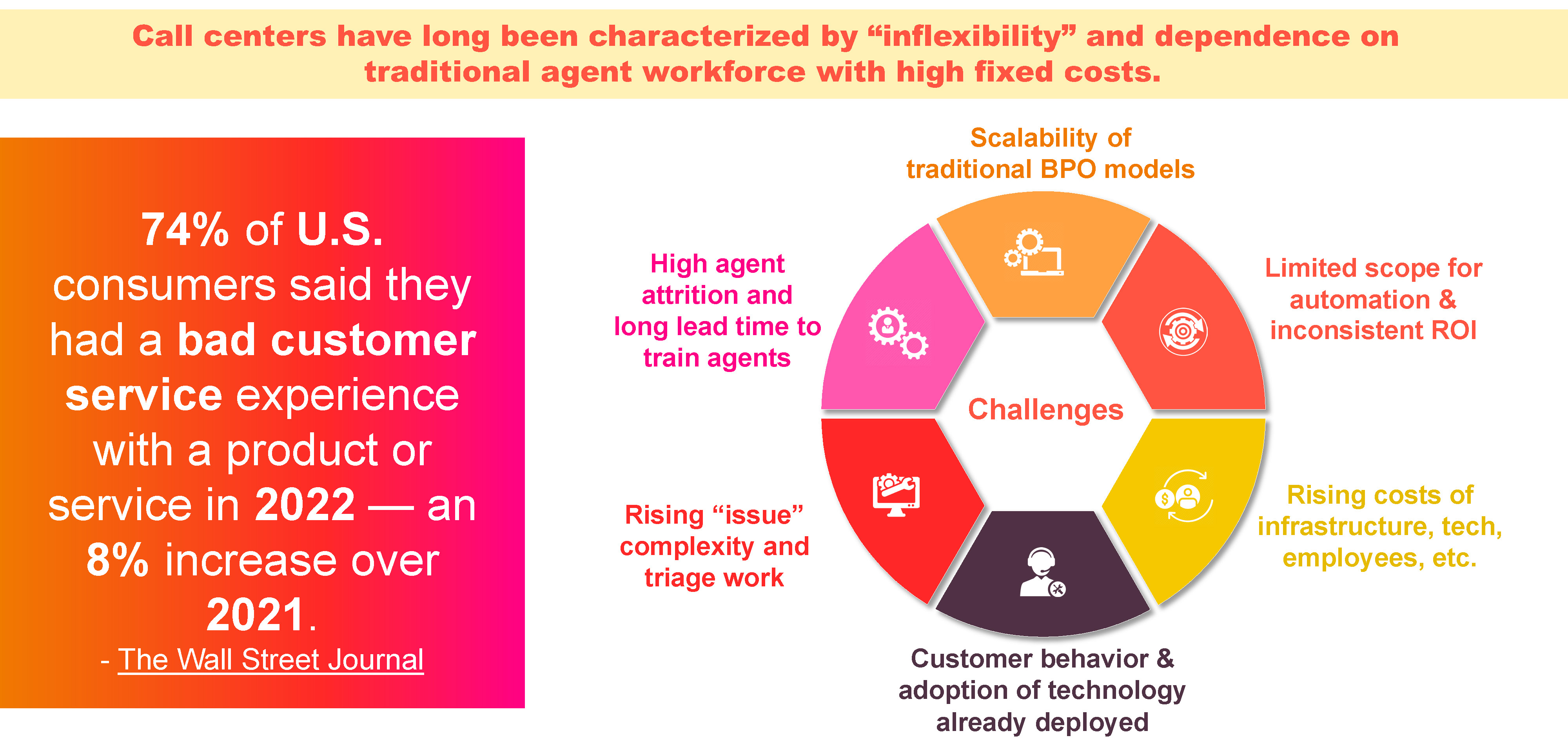 Excerpt 1: Today's call center faces challenges
Considering the challenges of the present model, leaders need to take meaningful action to be future-ready. The blended fluid model—this is the focus of this article.
The Twin Disruptors
The two disruptive forces likely to revolutionize the paradigm of how call centers operate are generative AI plus the gig economy.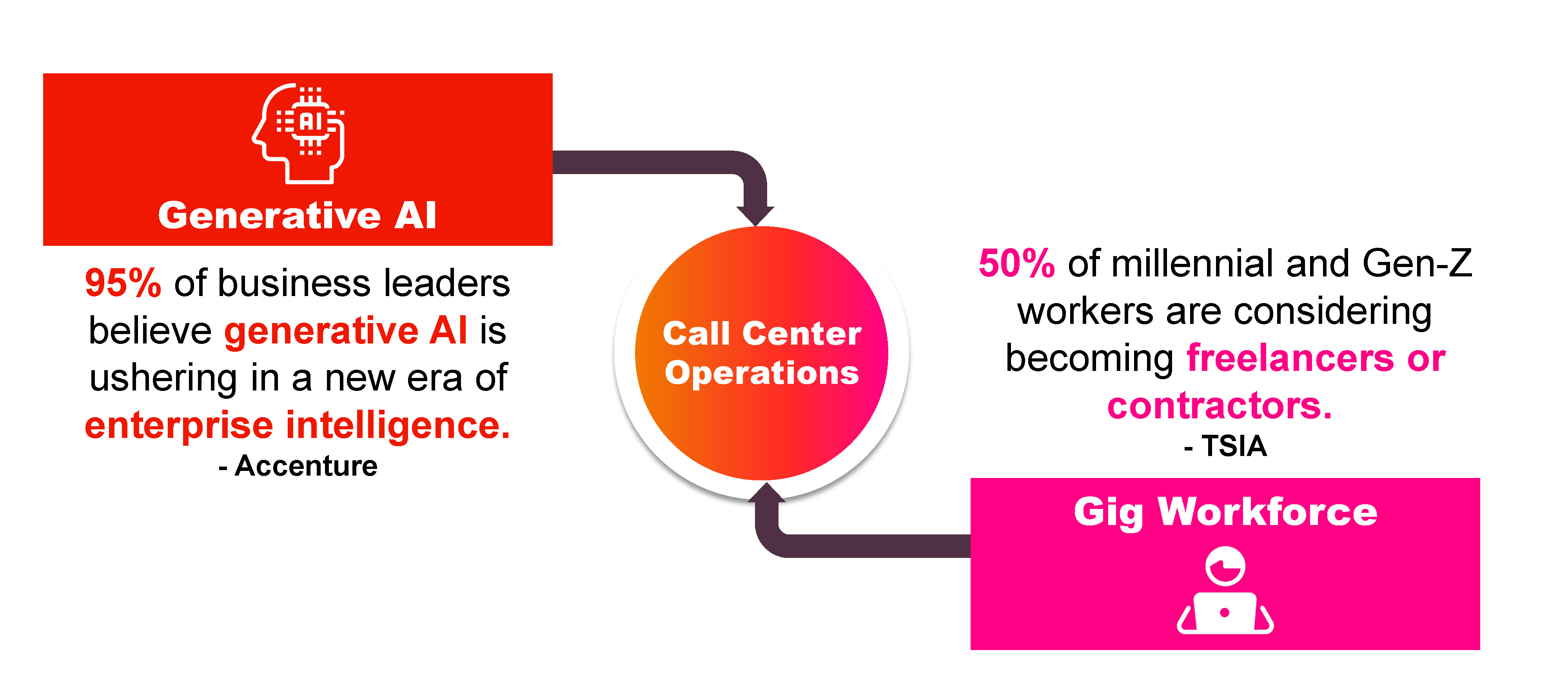 The combination of Gen AI and the gig workforce delivers outcomes for any industry, contact type, intents, and channels.
Generative AI Will Transform Contact Centers
Gen AI's ability to rapidly learn unsupervised or semi-supervised has catapulted automation prowess for many industries including the contact center.
Discussions with industry leaders across verticals indicate ~30-70% of customer journey improvements on the front end with generative AI and ~10-50% on the back end on how it can elevate agent productivity and their experience.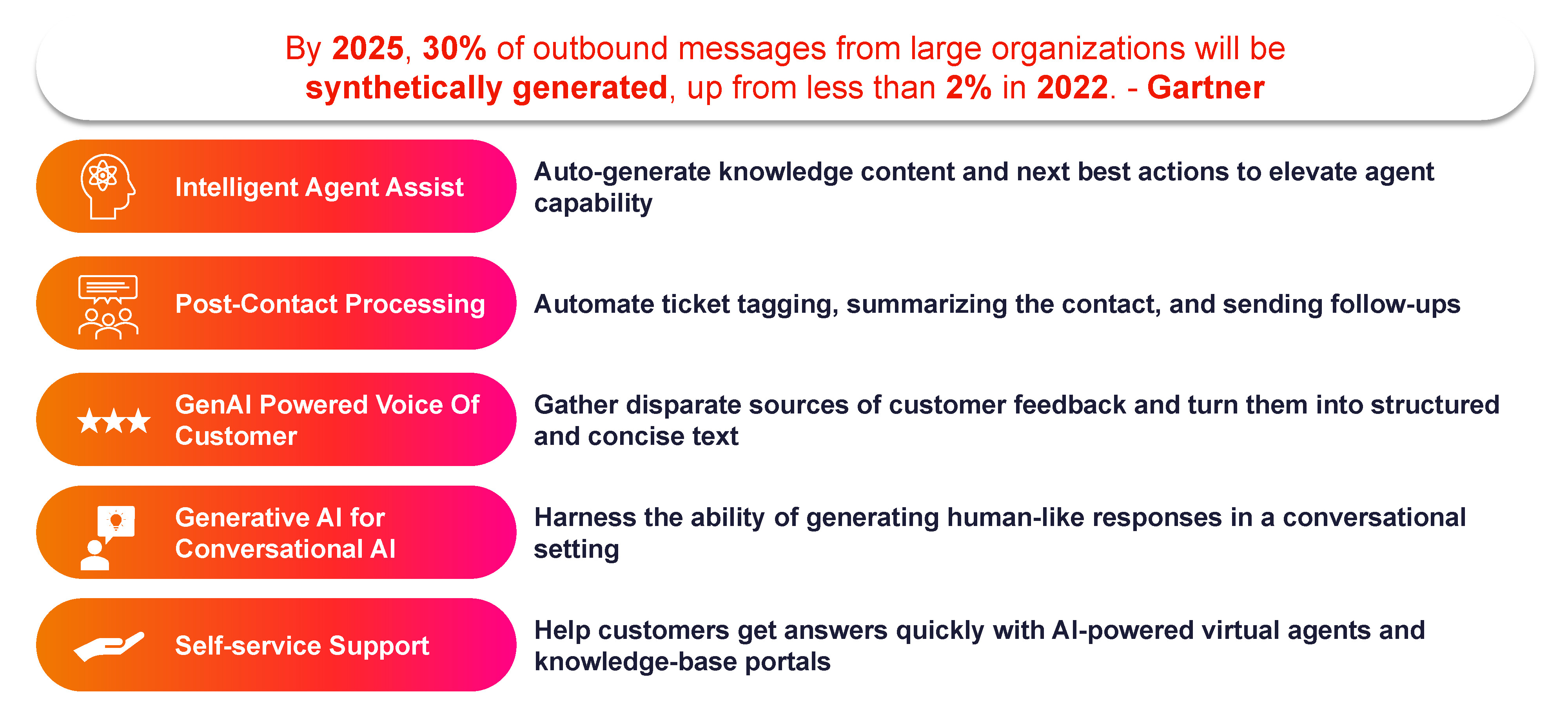 Excerpt 3: Gen AI will transform contact centers.
Intelligent agent assist and post-contact processing pertain to the back end, where Gen AI solutions assist agents. Here are the benefits:
Undivided attention: Agents focus only on customers without the need to multitask between applications.
Next Best Actions: Become intuitive throughout the interaction as AI augments the agent experience. Responses change based on the real-time conversation (Detects influxes in tone, sentiments, and emotions) to make interactions relevant. Do away with the traditional approach of scripts and troubleshooting trees.
Higher proficiency: Armed with real-time intelligence, agents handle complex cases without long training and onboarding sessions.
Quality interactions: Top quality support and CX becomes the norm.
Leverage generative AI for self-support, resolving defined contact types, automation, intelligent routing, and intent matching (~50%-70% of all intents).
Tapping the Power of Gig Economy
The gig economy provides flexible, scalable, high-quality skilled labor. Gig workers (60%+) are highly likely to upskill themselves to stay relevant in today's market. They are the answer to reducing costs and improving quality.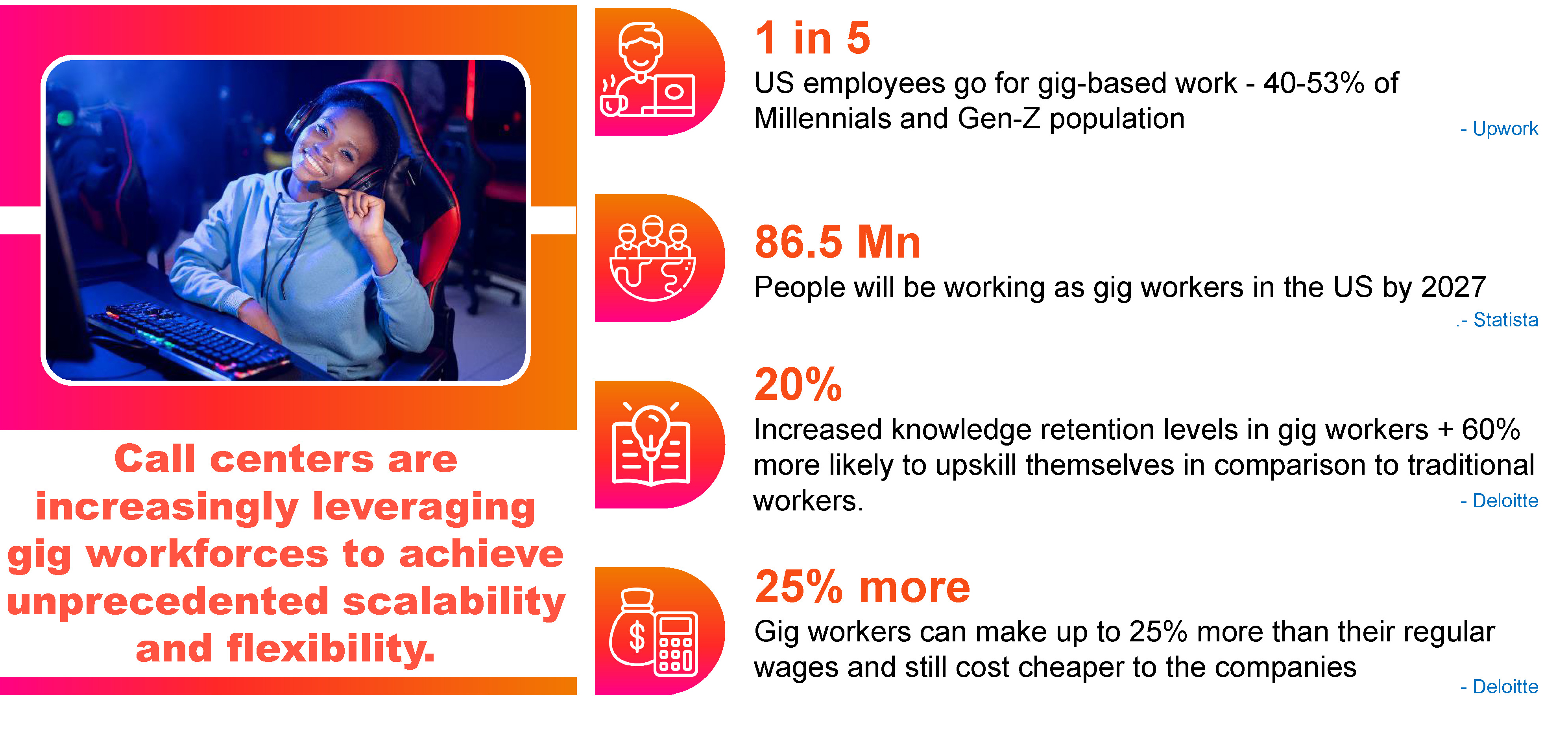 Excerpt 4: The gig workforce.
The Movate OnDemand platform offers support via 7000+ gig peer experts, while dedicated 12,000+ full-time agents offer elite support (10-15%) for complex requests requiring deep domain expertise. Cover all bases with generative AI: frontend self-support, expert or elite support, gig workforce, and comprehensive automation coverage.
Adopting the Blended Model
Combining the traditional BPO expertise with generative AI and a gig workforce unleashes unprecedented scale and flexibility. Flex the operations based on demand fluctuations (especially unforeseen situations) as workforce elasticity is available when needed and unavailable when unnecessary.
What if retailers could tackle holiday surges without bolstering their operations? Imagine airline brands scaling up and down without over-burdening agents during unplanned inclement weather. Think of gaming brands that could handle surges during new game promotions without ramping up staff, investing training time, and incurring additional fixed costs.
Excerpt 5: From a fixed model to a fluid one.
The fluid model focuses on resolutions, experience, and flexibility. Take away the burden of managing the risk of delivering the outcomes and share the reward with a technology partner.
Consider a typical contact center where 20% of agents handle 80% of the volumes. Automation controls ~20%, and gig takes about ~5-10%. Reorienting the traditional pyramid piece by piece gives an inverted one where agents take 5-10% of complex interactions or elite support (top-tier); gig handles 30%; AI-enabled solutions (conversational, human-like) manage around 70% of volumes.
Here's the inverted depiction of how the fluid model translates to the contact center of the future.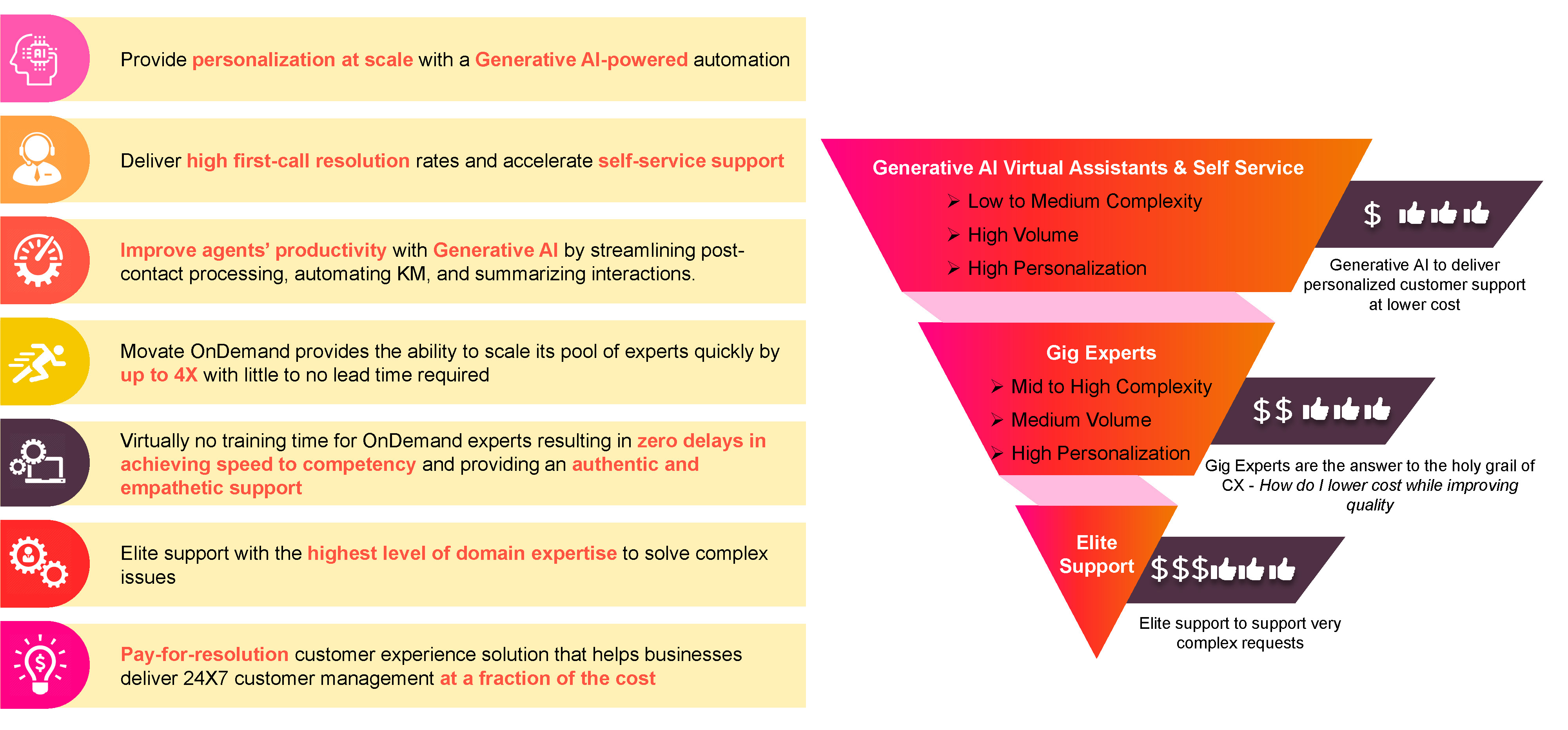 Excerpt 6: Why adopt the fluid call center model?
Start Your Journey
The contact center transformation is a journey specific to business and industry. Movate helped a telecom client with a 25% TCO reduction via an outcome-based hybrid acceleration center involving a Digital Adoption Hub (Gen AI) and Gig Transformation Hub (Movate OnDemand).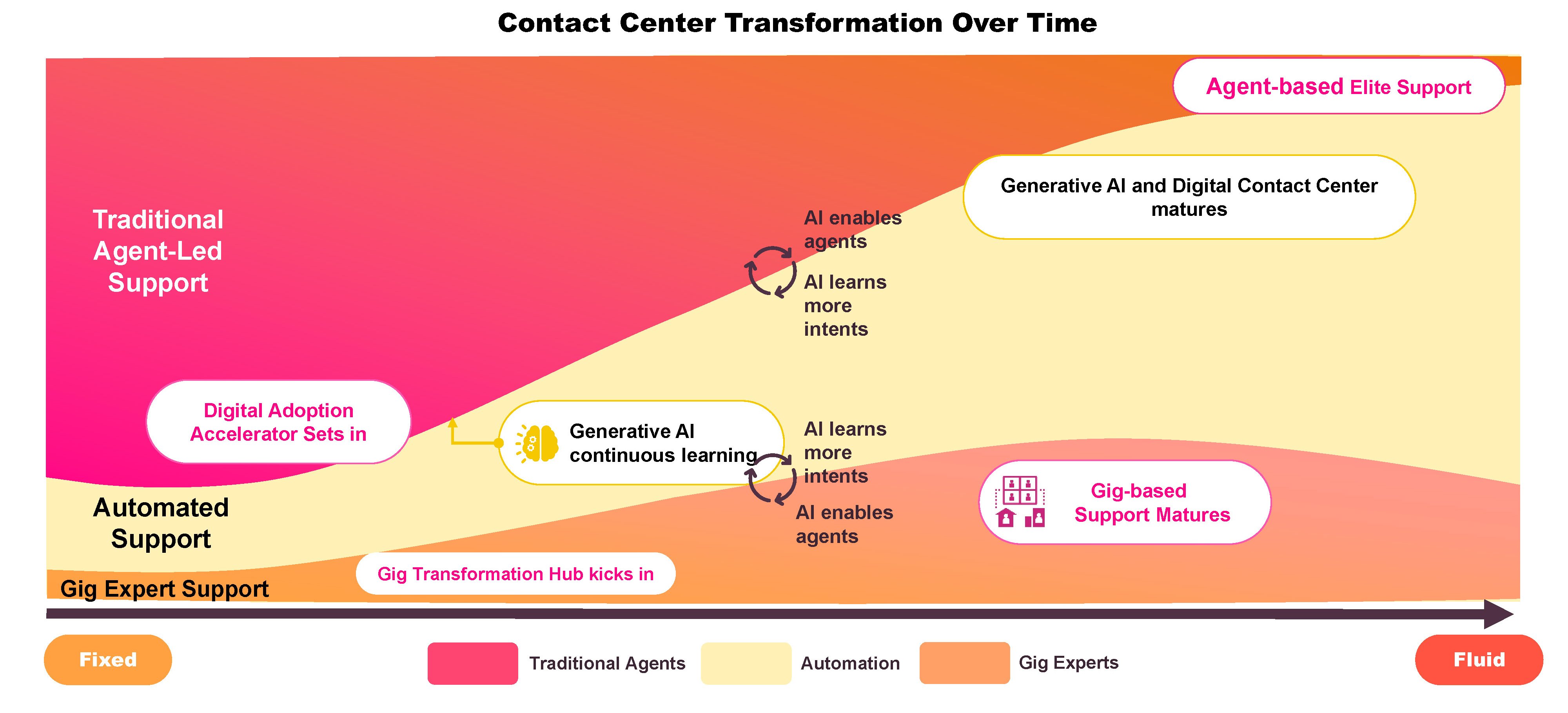 Excerpt 7: Contact center transformation over time.
Shift to the fluid call center model by cohesively integrating the 3 components: traditional agents, gig workforce, and overlaying it with Gen AI. Shifting toward a fluid contact center is a journey that the right technology partner can support.
---
Traditional BPO Expertise + Gig Workforce + Gen AI = Scale & Flexibility
---
Contact us for a detailed use case and help in charting the transition.
Additional Information