Movate won the 8th Annual 2023 Gold Globee® Award for American Business under the category Company of the Year – IT Services.
This prestigious award celebrates excellence and innovation across various industries, recognizing exceptional achievements and contributions. The rigorous judging process involved over 350 industry experts from around the world, representing diverse backgrounds and perspectives.
This recognition underscores Movate's unique business models that leverage digitally infused solutions with an insights-driven approach. The accolade vouches for Movate's outstanding accomplishments in customer service, innovation, and leadership.
Movate's cultural outlook, business performance, and service portfolio have significantly shifted toward a human-centered technology and experiences company.
Distinguishing attributes of Movate's leadership came together in the culmination of this win. Let's look at each of those.
Movate witnessed a consistent revenue growth rate over the years; doubling of the headcount to 12K+ in the last 3 years and reached a position as the 3rd largest service provider employer in Costa Rica, LATAM.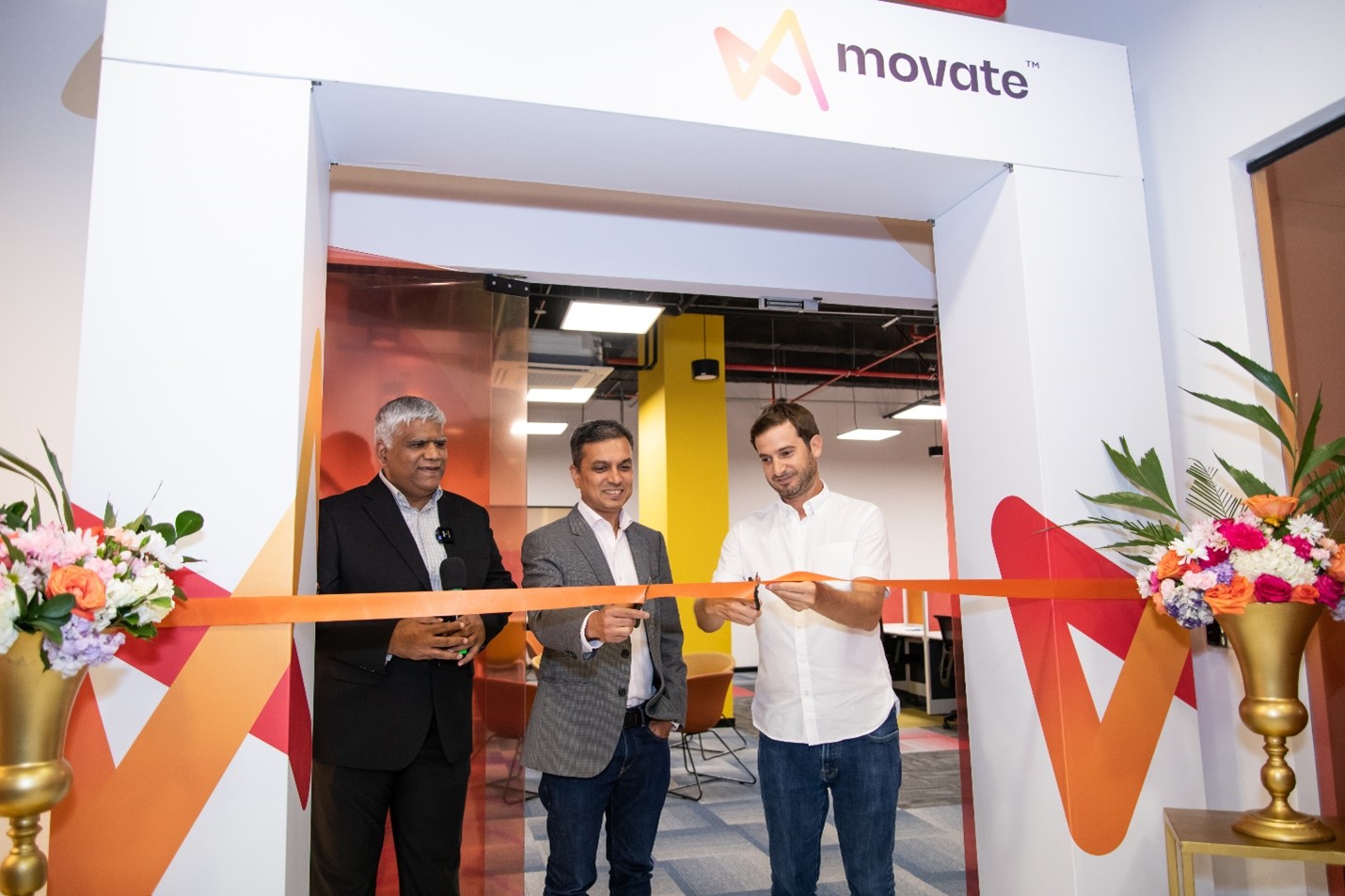 Ribbon-cutting ceremony during the inauguration of Movate's new global delivery center in Barranquilla (Left to right: Jayagopi Andhoor, SVP &LATAM Head at Movate, Sunil Mittal, CEO at Movate, and Alfredo Carbonel, Mayor-in-charge of Barranquilla)
Movate has expanded operations by launching new delivery centers – Romania and Colombia in 2021; Mauritius and  Barranquilla (Colombia) in 2023; added 5X as many technology partners in 2 years than compared to the last decade.
The convergence of proprietary solutions, resilient operations, & innovative business models mean Movate brings powerful AI offerings to drive client outcomes.
The team continues to drive business outcomes with a unique blend of technology and services. Platforms include Edison, a CX transformation platform; OnDemand, a gig CX ecosystem; Contelli, an AIOps platform; Insights, a platform with patented intent analytics.
Edison: Ranked #1 worldwide among all BPM services firms by HFS Research. For a 150+ year old clothing retailer, Movate increased basket size by 1.25X with improved CSAT (by 11%).
Contelli: Movate helped 65+ top brands migrate, run, and optimize their workload in the cloud. The team supported 160K associates and 123K vendors for a global technology company and achieved 98% CSAT.
OnDemand: For a gaming client, Movate resolved 1.8mn+ questions with a CSAT of 87%, ART of 1.2 mins with 1500+ gig experts.
John Ragsdale, VP of Technology Ecosystems, TSIA, said, "OnDemand is delivering immense value to tech companies, including multiple TSIA members."
Movate offers unique innovative outcome-based and gain-sharing models for clients. Movate's models take a skin-in-the-game proactive approach versus a break-fix approach of traditional models. Very few service providers have tasted success when it comes to transforming a tech support cost center into a profit center or converting clients' fixed operations costs into variable costs using gig models the way Movate does.
Movate delivers IT consulting & managed services by co-innovating with its IT business partners.
Movate's partnerships with other technology providers help enterprises optimize cost, provide scale and unlock revenue streams. Movate partnered with Resolve Systems and Ivanti to accelerate Intelligent IT Automation, Cloudwiry to provide cloud governance and application modernization services, Tricentis to modernize core business applications, and Panzura to accelerate multi-cloud orchestration to name a few.
The other leadership attribute is that of strategic investments poured into digital capabilities power next-gen customer engagements. Proprietary platforms are built using digital components like Generative AI, NLP, Analytics, and Automation to craft world-class solutions that translate to customer-centricity, operational excellence, and improved client business resilience.
The leadership's philosophy doesn't limit to technology, but extends to novel business models, which are vital for orchestrating tangible business-value for clients in today's landscape.
A good example is the "Blended Gig-Enabled Support Model," that brings the best of both worlds—traditional and gig models.
Around the time of publishing this blog, Movate's Innovation Labs has gone a step further with the blended model for the future of contact centers. This fluid contact centre model combines the traditional BPO expertise with generative AI and a gig workforce to unleash unprecedented scale and flexibility.
Gen AI + Traditional BPO Expertise + Gig Workforce = Scale & Flexibility
Work with the right-sized Digital Transformation partner of choice for global B2B2C brands—A partner who is small enough to care and large enough to scale.
Additional Information